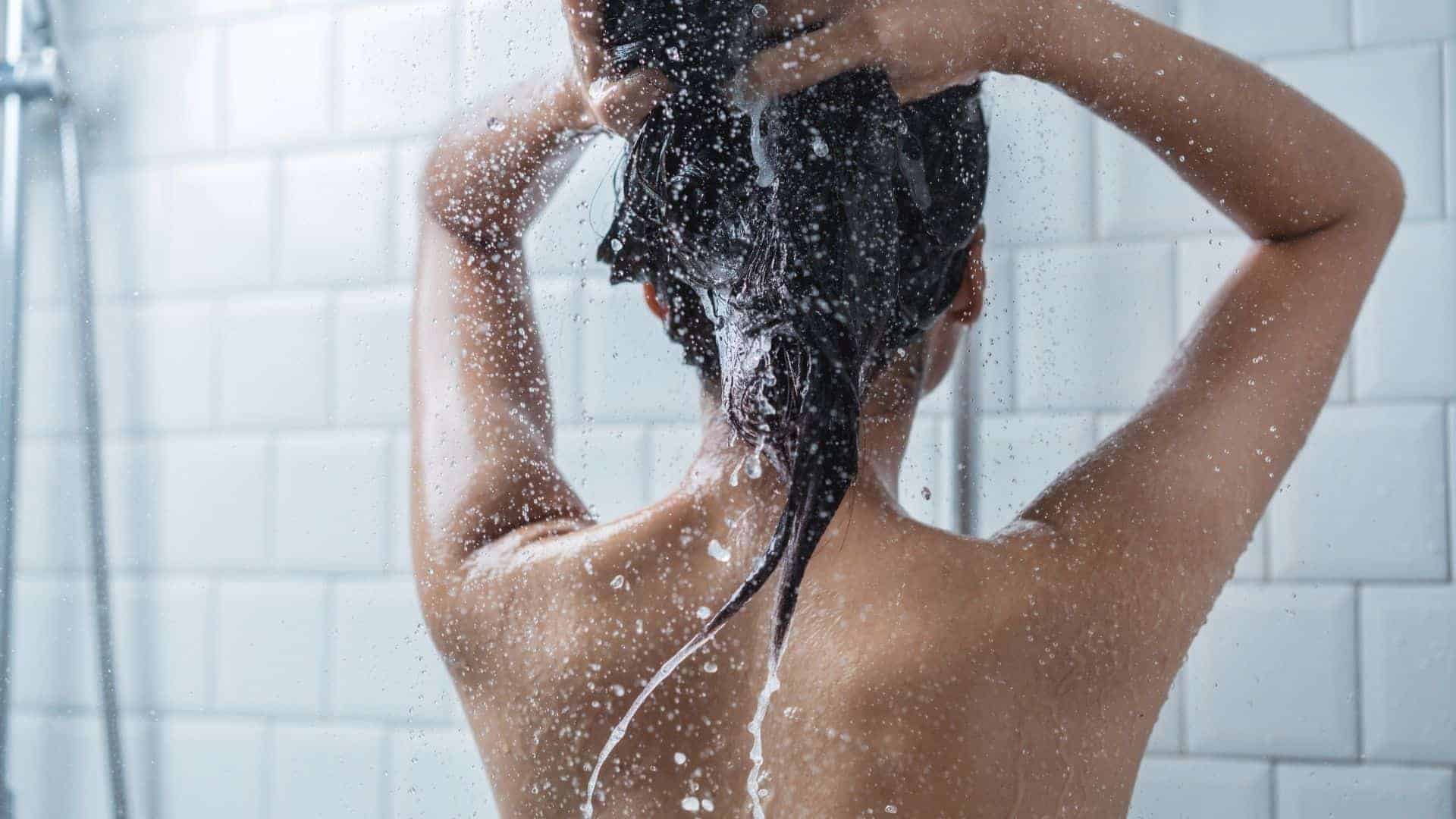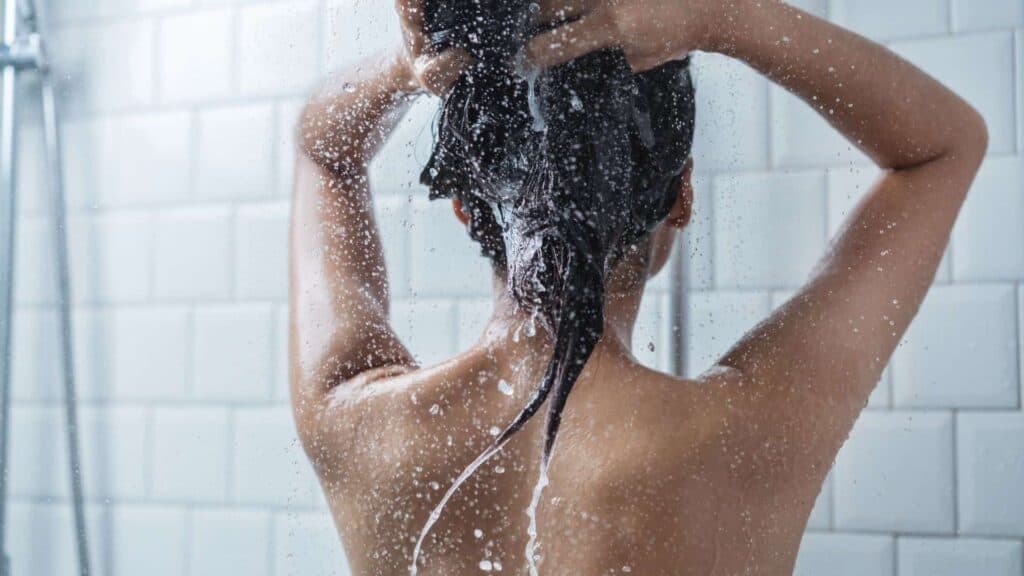 Last van beschadigd haar? Maak je geen zorgen, er is nog hoop.
Olaplex 3 review: mijn ervaring en is het waard? Olaplex 3 is een nieuwe behandeling die jouw haren volledig herstelt, maar is het product daadwerkelijk goed voor je haar is of is het allemaal een leugen!?
Kies je ervoor om een bepaalde behandeling onder te gaan, dan wil je natuurlijk weten of het werkt.
In dit artikel beschrijf ik mijn persoonlijke ervaring met Olaplex 3 review en kom jij erachter of het iets voor jou is!
Laten we beginnen.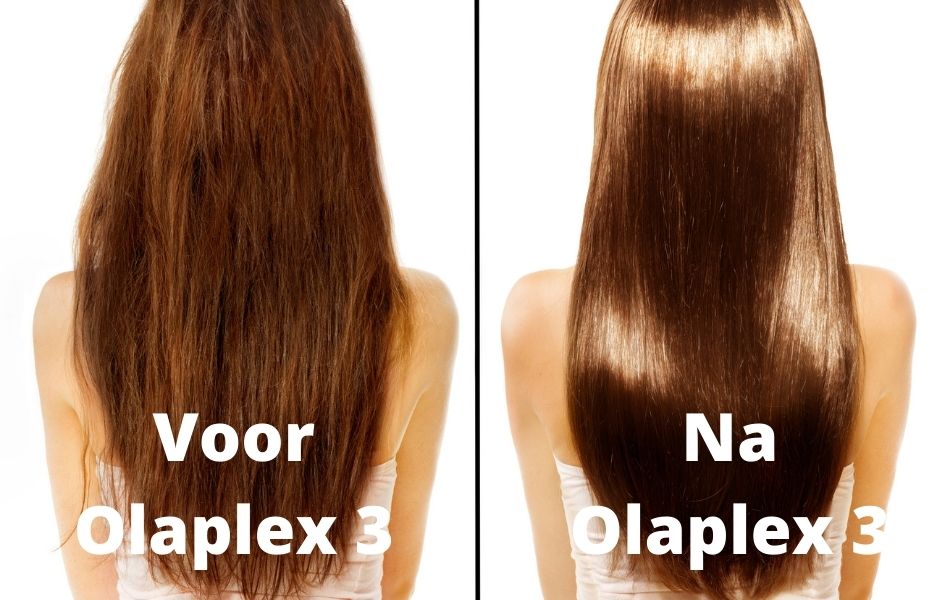 Wat is Olaplex?
Olaplex is een behandeling die jouw haren HERSTELT.
Geloof het of niet, de meeste mensen zien binnen een aantal dagen al resultaat.
Ja… dat dacht ik ook in het begin, maar de Olaplex lijn helpt beschadigd haar voorkomen, waardoor jouw haar STERKER, GEZONDER en MEER GLANS UITSTRAALT.
Maar is het voor iedereen geschikt?
Ja, want het werkt vrij simpel, Olaplex is op zichzelf een behandeling, maar kan ook toegevoegd worden aan andere behandelingsmethodes, bijvoorbeeld gekleurd haar of permanente styling.
Heb je alle producten van de Olaplex lijn nodig?
Haha, nee! Tuurlijk niet. Ze hebben een uitgebreid assortiment van de categorieën 0 t/m 7. Maar ga je ECHT alle 7 de producten kopen?
Even een snelle berekening tussen door:
Olaplex 0 = € 27,35
Olaplex 3 = € 22,-
Olaplex 4 en 5 = €49,75
Olaplex 6 = € 27,90
Olaplex 7 = €27,-
Alles opgeteld is bij elkaar is € 154,-
Ga je ECHT meer dan 150+ EURO uitgeven aan haarproducten, als je het aan mij vraagt…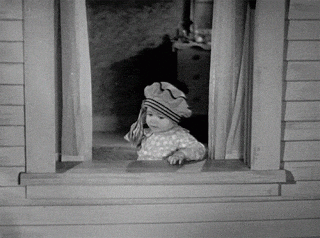 Je weet het antwoord vast al. 😉
Hieronder heb ik de 7 categorieën voor jou uitgewerkt om het je zo makkelijk te maken.
De 7 categorieën van Olaplex
Dit zijn de 7 categorieën van de Olaplex lijn. Lees het op je gemak door en kijk welk product voor jouw haartype geschikt is.
Niet elk product werkt voor iedereen.
Dit moet je onthouden!
Heb je teveel geld? Koop dan alle producten, want ja wie wilt nou niet perfect haar hebben.
Wakker worden met warrig haar en de hele ochtend klitten uitkammen. Voorkom dit allemaal, maar je bent er wel een groot zakcentje voor kwijt.
0. Intensive Bond Building Treatment

De Intensive Bond Building Treatment helpt jouw haar te versterken, met een tweedelige behandeling die je direct uitvoert. Breng het aan op jouw droog haar en laat het inwerken voor ongeveer 5 tot 15 minuten.
Wat ga je doen met deze tijd?
"even snel op je telefoon door TikTok, Instagram of Facebook scrollen."
Probeer het een tot twee keer in de week te gebruiken voor het beste resultaat. Als ik dit product gebruik, dan gebruik ik er meestal een shampoo en conditioner bij, want ja… je bent toch al bezig.
Waarom niet alles tegelijk gebruiken, dan ben je er ook gelijk van af. En wie wilt nou uren in de badkamer staan om je haar te wassen.
Al met al is de Intensive Bond Building Treatment niet noodzakelijk, maar zeker een "versnelde" oplossing voor beschadigd haar.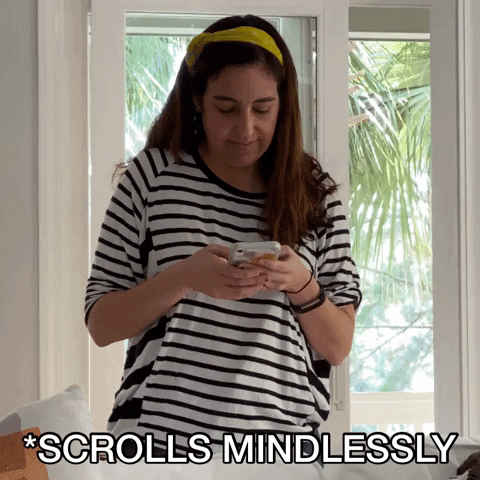 3. Hair Perfector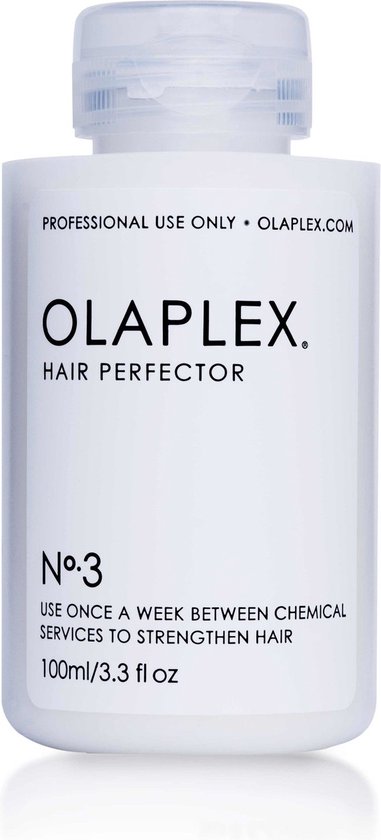 Hier is die dan, de Hair Perfector waar iedereen het over heeft. De alles-oplosser. Het magische-middel waar je op hebt gewacht.
Een snelle en goedkope thuisbehandeling voor beschadigd haar. Wie wilt dat nou niet? Maar of het ook de resultaten geeft zoals iedereen zegt.
Dat heb ik voor je uitgezocht!
Hoe ik te werk ga:
De producten bestellen op Bol.com
Het product gebruiken
Een review over schrijven
Mijn bevindingen en ervaring delen
Is dit alles?
JA, zo gaat elke "beauty" blogger te werk, waarvan de meeste niet eens het product in handen hebben.
Oke. Terug naar het product.
De Hair Perfector van Olaplex werkt goed voor beschadigd haar, maar echter raad ik wel aan om een conditioner erbij te gebruiken.
Een EXTRA BOOST, wat je heel de dag ziet. MEER VOLUME, MEER PERFECT HAAR. En weg met beschadigd haar.
Meer lezen over de Olaplex 3 Hair Perfector? Hier kom ik later op terug.
4. Bond Maintenance Shampoo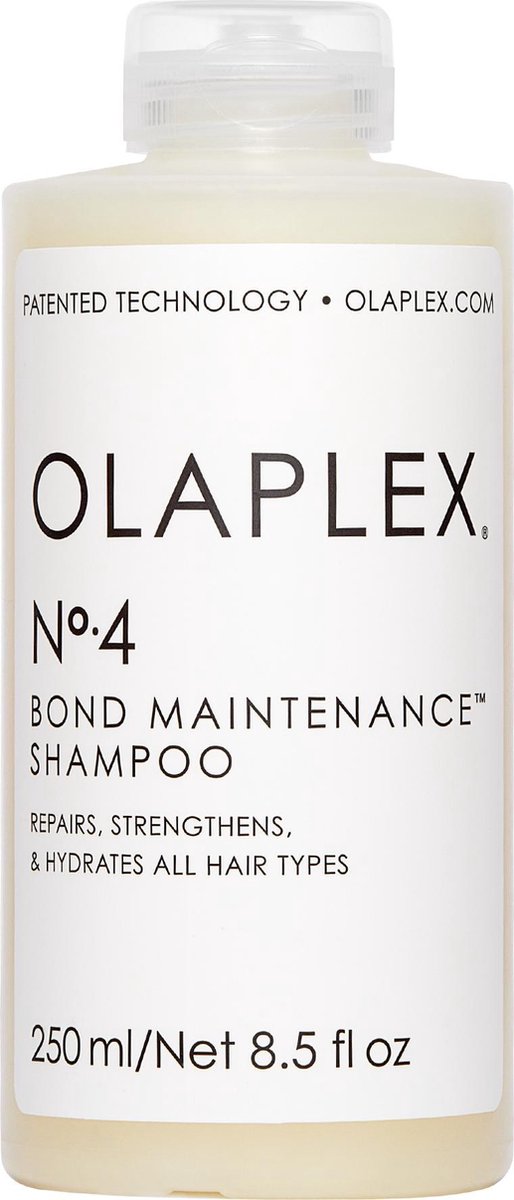 Gespleten punten en pluizig haar? Dan is dit jouw product. Verminder je gespleten punten in enkele dagen of weken.
Je wilt niet JAREN of MAANDEN wachten totdat je resultaat ziet. Daarom is de shampoo een uitstekende keus, tevens heeft het een gemiddelde rating van 4.3 van de 5!
Let wel op: je haar kan er erg slap van worden.
Het is vooral gemaakt voor mensen met gespleten punten en pluizig haar.
Zelf heb ik VEEEL minder gespleten punten en is mijn haar sterker dan ooit tevoren. Een groot voordeel is dat je aan een klein beetje al genoeg hebt, dus het gaat erg lang mee.
5. Bond Maintenance Conditioner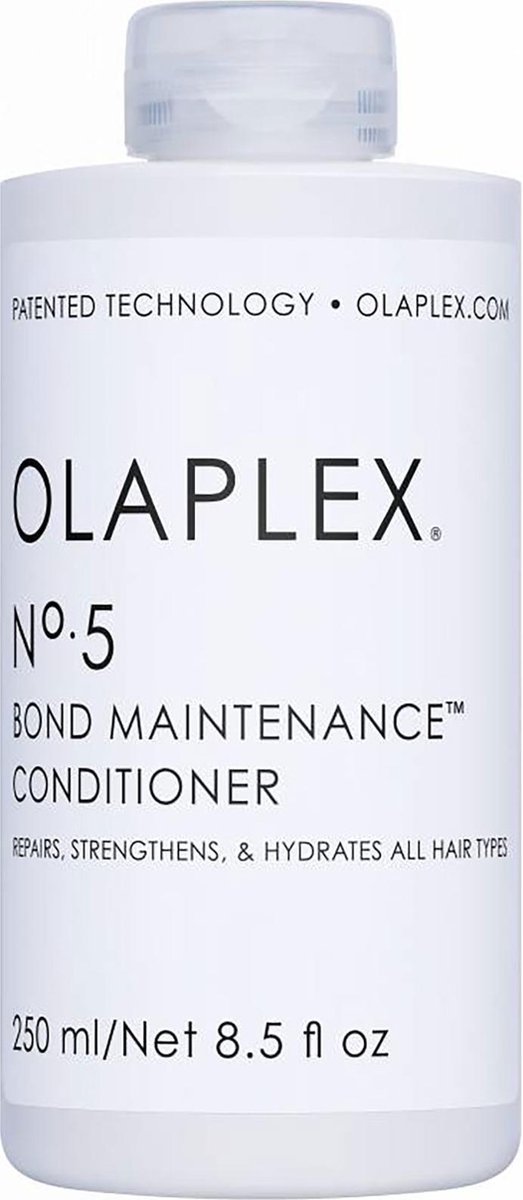 Gebruik de conditioner ALLEEN ALS AANVULLING op de shampoo. Zo krijg jij het beste resultaat.
Natuurlijk kan je een andere shampoo gebruiken, maar als jij jouw geld liever verbrand door een andere shampoo te kopen, dan moet je dat zelf weten.
De conditioner helpt met:
Beschadigd haar herstellen
Haar zachter maken
Repareert en hydrateert je haar
Sulfaat, parabenen en glutenvrij
Geschikt voor geverfd / gekleurd haar
Al deze voordelen. Voor mij is het echt een no-brainer. Vooral als je al een langere tijd met beschadigd haar zit, dan ben je toch wel aan een oplossing toe.
Of wil je nog weken, maanden of zelfs jaren zitten met beschadigd haar, Nou, als je dat aan mij vraagt dan weet ik het wel.
Tevens is de conditioner ook "redelijk" voordelig als je kijkt naar hoe lang het mee gaat.
Ga er maar van uit dat je er ongeveer twee tot drie maanden mee kan doen. Voor de prijs van minder dan € 25,- kom je misschien uit op minder dan een tientje per maand.
Een keer minder uiteten? Minder uitgaan?
Kijk is aan, dan heb je het zo binnen.
STERKER, GEZONDER en GLANZEND HAAR. Verwacht dit met de Olaplex Bond Maintenance Conditioner.
6. Bond Smoother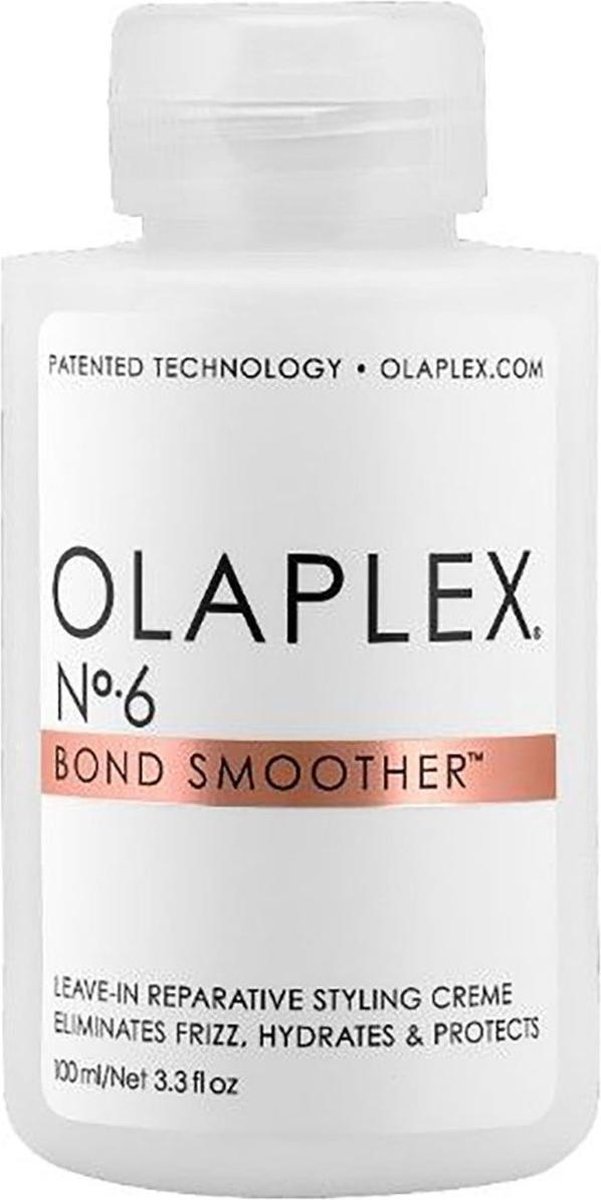 Ooit gehoord van een Leave-In Conditioner? Dat is de Olaplex Bond Smoother. Dit product zorgt ervoor dat je haar minder pluizig wordt, tevens is het DE IDEALE leave-in conditioner.
Geen tijd om je haar te doen?
Breng de leave-in conditioner aan op je haren en je kan direct de deur uit.
Zo werkt de leave-in conditioner, natuurlijk is het verstandig om het even in te masseren of nog even te stylen. Maar het bespaart je extreem veel tijd.
Waar jij normaal 30 minuten overdoet. Kan de leave-in conditioner in minder dan 10. Dat is 3 KEER ZO SNEL.
Bij geen één ander product zie je dit.
Geschikt voor alle haartypes
Beschermende werking
Elimineert pluizig haar
Op Amazon.com al meer 29,000+ reviews.
Maar maak je geen zorgen, uit Amerika bestellen kost je een levensvermogen om het naar Nederland te krijgen.
Daarom heb ik met plezier de goedkoopste prijs voor je uitgezocht. 😉
Na uren lang zoeken, heb ik de goedkoopste prijs voor jouw gevonden.
Snel van pluizig haar af? Gebruik dan direct de Olaplex 6 Bond Smoother.
7. Bonding Oil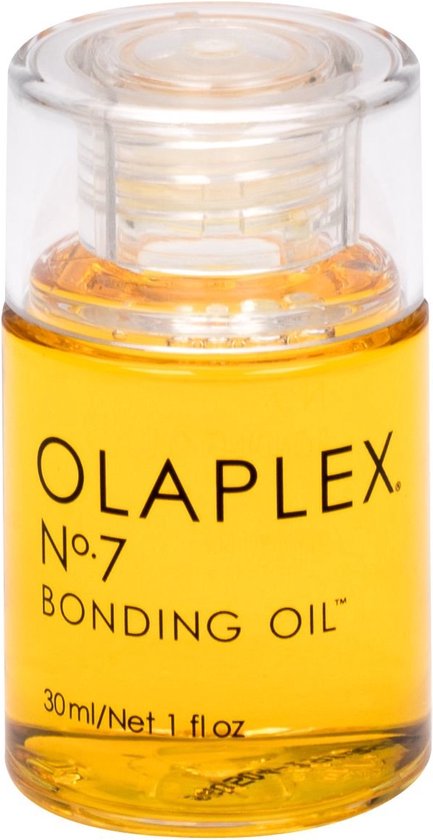 Het laatste product van de Olaplex lijn, maar zeker niet de minste. Gebruik dit product alleen als aanvulling.
Zelf heb ik de bonding oil gebruikt, maar zag amper resultaat. Het werkt wel om je gespleten punten te verminderen, maar het is geen WOW.
Echter is de geur teleurstellend, misschien waren mijn verwachtingen te hoog.
Maar aan het einde van dag wil ik met dit artikel jou de beste keus laten maken, hiervoor wil ik geen producten promoten die ik zelf niet gebruik.
Wanneer het wel werkt voor jouw haartype, laat het me weten!
Ik sta er zeker voor open om het nog een keer uit te testen, maar voor nu raad ik het niet aan. Bovendien is het best wel prijzig.
Voor 30ml betaal je € 27,-.
€27,- EURO 30 ml. Dat vind ik persoonlijk. "Extreem duur".
Mijn ervaring met Olaplex 3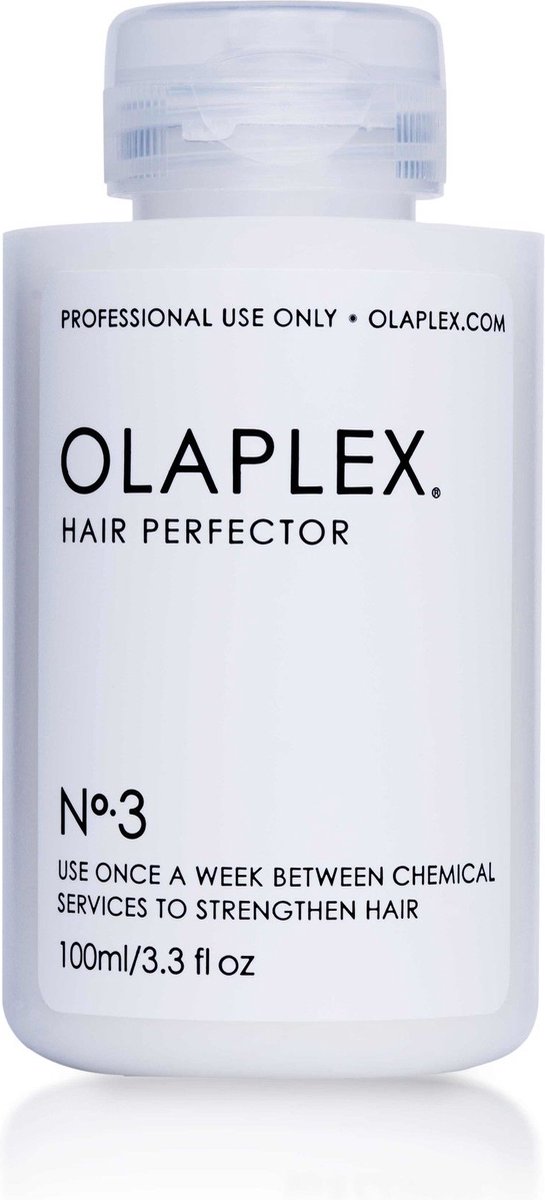 Hier is het deel waar je op hebt gewacht.
Mijn ervaring met de Olaplex 3.
Zelf heb ik extreem beschadigd haar en met dit product is mijn haar helemaal veranderd.
Het is sulfaat vrij!
Ja, je leest het goed SULFAAT VRIJ. Geen zorgen meer over chemische behandelingen die telkens je haar beschadigen.
Volledig vanuit huis, op de bank, "TV kijkend" breng je de Olaplex 3 aan en zonder enige zorgen.
Verwacht dat je haar binnen no-time in perfecte staat is. Nou ja… "perfecte staat". Even terug naar de realiteit. Perfect haar haal je zeker met dit product, maar niet iedereen natuurlijk.
Toch MOET je dit product uitproberen. Het is DE POPULAIRSTE EN BEST WERKENDE haarmasker op de markt. Nergens anders kan je de resultaten verwachten zoals bij deze.
Hier zie je het aantal reviews op Amazon.com
MEER DAN 80,000+ REVIEWS.
Dat zie je nergens. Geen andere merk. Geen andere shampoo. HELEMAAL NERGENS
Daarom is dit mijn favoriete haarmasker. Daarbij moet je wel onthouden dat het niet van de ene tot op de andere dag je haar in 1 keer zacht is.
Het is een proces. Voor sommige kan het een week of twee duren, terwijl het voor andere maanden duurt voordat ze resultaat zien.
Zelf zag ik binnen een aantal weken al resultaat. Wat al vrij snel is, maar dat is ook welte verwachten van een product met 80,000+ reviews.
Snel, zacht en glanzend haar krijg je met Olaplex 3.
Wist je dat mannen dit ook gebruiken?
Ja, haha inderdaad.
Mannen gebruiken ook de Olaplex 3. Met name mannen met lang haar. Het heeft hetzelfde effect als bij vrouwen, dus als je een vriend/man hebt met lang haar, dan kunnen jullie dit samen gebruiken.
Probeer wel meerdere Olaplex producten te combineren. Zacht en glanzend haar krijg je het snelst wanneer je de producten combineert.
Bovendien zag ik zelf het snelst resultaat toen ik de Olaplex 3, 4 en 5 samen gebruikte.
Hoewel het wel prijzig kan zijn, moet je dit zien als een investering.
Je hoeft nooit meer andere producten te testen, want ja…
Als je een vaste haarroutine hebt, waarom zou je nog geld verspillen als je toch al weet wat werkt. Dit gevoel heb ik tenminste. Probeer het minimaal twee tot drie maanden te gebruiken, voordat je conclusies trekt.
Sommige mensen zien pas resultaat na enkele maanden.
Dus verlaag je verwachtingen, maar probeer het wel uit.
Want wil je nog jaren lang met beschadigd haar zitten? Geld verspillen aan producten die niet eens werken. Al je tijd besteden aan reviews lezen waarvan je het product toch niet gaat kopen?
Jouw haar kan binnen enkele keren na gebruik van de Olaplex 3 bijna in perfecte staat zijn. Zie je het al voor je, nooit meer last van beschadigd haar. Wie wilt dat nou niet.
Onthoudt dat het product speciaal is ontwikkeld om beschadigd haar te herstellen. Dus je kan ook verwachten dat het daadwerkelijk werkt.
Het is niet zoals andere producten. Dit product heeft ÉÉN WERKING:
SNEL RESULTAAT, ZACHT HAAR, EN NOOIT MEER BESCHADIGD HAAR.
Bij een professionele haarstylist betaal je al snel € 20,- tot € 50,-. Voor een EENMALIG GEBRUIK.
Met de Olaplex 3 doe je dit 15 keer.
15 KEER! DAT IS € 15 X € 20 = € 300,- EURO WEGGEGOOID GELD
En dat is nog goedkoop…
Bekijk het zo: hoeveel geld bespaar je wel niet als je dit zelf koopt. Voor mij is dat al snel € 200,- tot € 300,- in 2 maanden.
Ja… dat geld geef ik liever uit aan andere dingen. En hierbij heb ik de kosten voor het wassen, knippen en föhnen niet eens bij berekend.
Zo zie je maar weer hoeveel geld je bespaart. Ik wil het niet over laten komen als een "verkooppraatje" maar dit is de realiteit.
Of je het nou wilt of niet.
Olaplex is de beste keus voor droog, beschadigd en geverfd haar. Het heeft alle voordelen die je maar kunt bedenken en zelfs dan is het NOG BETER.
Al met al is het voor mij een no-brainer. Je kunt de goedkoopste Olaplex 3 hier aanschaffen als je nooit meer beschadigd of droog haar wilt.
De voor- en nadelen van Olaplex 3
Dit zijn de voor- en nadelen van het gebruiken van Olaplex 3.
Voordelen:
Helpt met het herstellen van beschadigd haar
Het is 100% vegan en dierproefvrij
Bevat geen siliconen, sulfaten en aldehyden
Betaalbaar voor de meeste mensen
Maakt je haar super zacht en heeft een lekkere geur
Nadelen:
Verpakking ziet er simpel uit
Het product werkt niet voor iedereen
De flesjes zijn vrij klein
Is het waard om Olaplex 3 zelf te proberen?
Ja, het is zeker waard om Olaplex zelf uit te proberen. Hoewel je er niet al te hoge verwachtingen van moet hebben, doet het wel wat het beloofd. Dit is zeker een aanrader voor mensen die er een beetje over twijfelen.
Conclusie
Raad ik Olaplex 3 aan om uit te proberen?
Ja zeker!
Als je al een langere tijd opzoekt bent naar een product dat helpt bij beschadigd haar, dan is dit zeker de all-in-one oplossing. Verwacht niet dat je na één of twee dagen al direct resultaten ziet, maar als je het op een korte termijn van ongeveer 2 a 3 maanden gebruikt, zul je zeker goede resultaten zien. Daarnaast is het belangrijk dat je een goede shampoo in combinatie gebruikt met de Olaplex 3, zelf raad ik aan om producten van hetzelfde merk te gebruiken. Hiermee zorg je voor een goede overloop in producten.
---
Veelgestelde vragen
Hieronder staan een aantal veelgestelde vragen die ik vraag krijg als mensen Olaplex gebruiken.
Hoe lang moet je Olaplex laten intrekken?
Olaplex 3 moet je minimaal 3 minuten laten intrekken. Je hoeft het er niet uit te spoelen met water, omdat het product gemaakt is om in je haar te laten zitten.
Vervolgens kun je het laten drogen of te fohnen. Bij voorkeur is het aangeraden om je haar niet te fohnen. De hitte kan je haar beschadigen, wat niet verstandig is. Aangezien je een product gebruikt om je haar te herstellen.
Daarnaast raden we aan producten te gebruiken, die goed samen gaan met de olaplex 3. Zoals dit product, deze producten helpen Olaplex 3 extreem goed met elkaar overlopen. Je zult ook direct resultaat zien wanneer je deze combinatie gebruikt.
Zijn andere Olaplex producten essentieel?
Nee, je kunt ook 1 Olaplex product gebruiken en hetzelfde resultaat verwachten. De andere producten hebben andere werkingen.
We raden wel aan om soortgelijke producten uit te proberen. Zo zie je sneller resultaat, maar zorg wel dat het goed samen loopt met de Olaplex 3. Je wilt geen producten aanschaffen die niet goed afgestemd zijn.
Een voorbeeld is wanneer je een anti roos shampoo gebruikt en vervolgens een conditioner koopt voor beschadigd haar. Zoals je ziet loopt dit niet goed samen, dit zijn mijn favoriete producten.
Conclusie
Zoals je hebt gelezen is Olaplex een goed product wat zeker aan te raden is. Als je meer wilt lezen over product reviews of gewone tips check onze blog hier.